We are thrilled to announce the official release of Supermodal V1.0.0.
Supermodal is a powerful new audio filter plug-in that utilizes hundreds of narrow filter bands to emulate the resonating qualities of acoustic bodies, resulting in never-before-possible sonic transformations. With the addition of a parallel classic multi-mode, zero-feedback state variable filter, Supermodal allows users to shape their audio into a wide range of attention-grabbing sounds that are both exciting and eminently musical.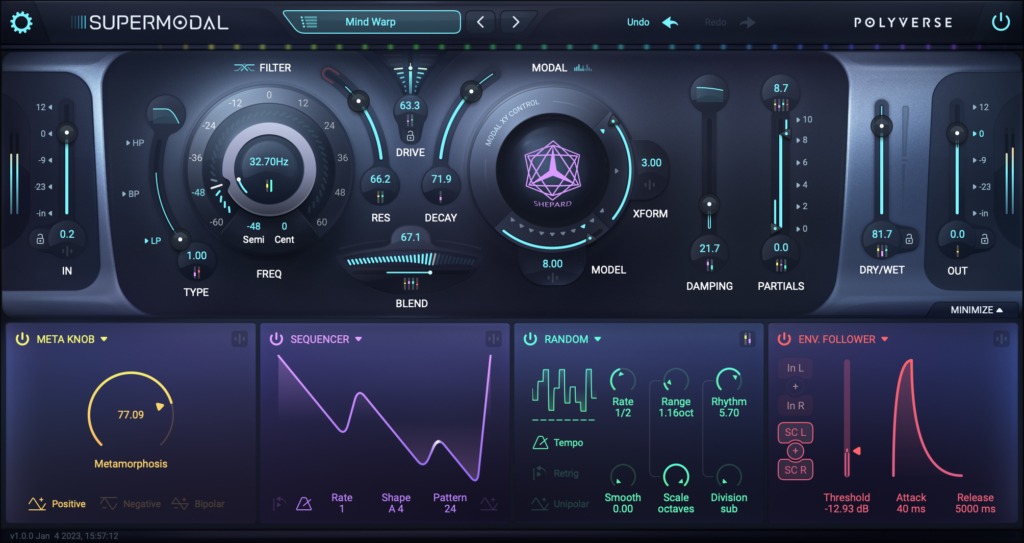 Version 1.0.0 updates include:

● Filter stability and sound improvements
● Modulation Amount Sliders now labeled according to the active modulator
● Active Modulation Buttons are highlighted when hovering over modulation slots
● Random and Sequencer modulation modes now have a UniPolar function
● Sequencer: Arrow keys can be used to shift and invert phase
● Sequencer: Letter keys can be used to select a corresponding shape
● Additional expert-designed presets included
● Improved initial preset
● Right-click Preset Browse button to save a new preset without opening the preset list
● Ctrl – /= or Command -/= shortcuts to resize the plug-in
For more Info about Supermodal, Audio Demos and Tutorials Click HERE
We extend our deepest thanks to all of the users who participated in the public beta and provided valuable feedback to help us refine the Supermodal experience. Your input has been invaluable in making this release even more fun, inviting, and rock solid.
We can't wait to see what our community creates with Supermodal, and we look forward to hearing more of your wild and innovative sounds!
This release marks the end of the discounted public beta, and all beta owners will receive a free upgrade to version 1.0. For those just discovering Supermodal, it is now available for purchase on our website or through affiliate retailers for $99.
Supermodal is now included in our Everything Bundle, which offers access to four other production plug-ins – Manipulator, I Wish, Gatekeeper, and Comet – for $399.