POWERFUL FILTER | MODERN SOUND
Supermodal is a powerful and unique filter with unparalleled sound design capabilities that will make your music resonate. It remodels ordinary tracks utilizing its powerful Modal filter that emulates sonic characteristics modeled from a wide range of resonating bodies. Combined with a parallel state-variable filter and expansive modulation system, a single audio signal can be manipulated into a wide array of frequencies to create shimmering cinematic soundscapes, pulsating rhythms, pads with harmonic motion, or anything else you can dream up.
When an object is struck, or excited, it vibrates and makes a recognizable sound. Those vibrations travel and bounce through the object material and interact to create standing waves, resulting in resonating frequencies called modes. Watch the video to learn more.

The Modal Filter utilizes hundreds of surgically precise bandpass filters to model the resonant bodies of various instruments, objects, waveforms, and more.  We created 9 models, each with 3 variations for a total of 27 modes including a range of flangers, phasers, vocal filters, physical and even mathematically modeled resonators.  With decay, dampening and partial settings, Supermodal provides fine-tuned control to either subtly or dramatically fashion these unique sonic characteristics into your sound palette.
SHOW STOPPING

 

MANIPULATION
The glamor of Supermodal is fully unveiled when combining its powerful filters with its robust modulation system.  The 4 modulation slots offer 6 modulation sources including – Meta knob, ADSR, Envelope follower, Sequencer, MIDI/CV triggers, and Randomizer.  You can also cross modulate between slots to create even more intense modulation.  Both the State-Variable filter and Modal filter operate in stereo allowing you to modulate the left and right signal independently, together, or separate to deliver awe-inspiring stereo effects.  Virtually all parameters in Supermodal can receive modulation.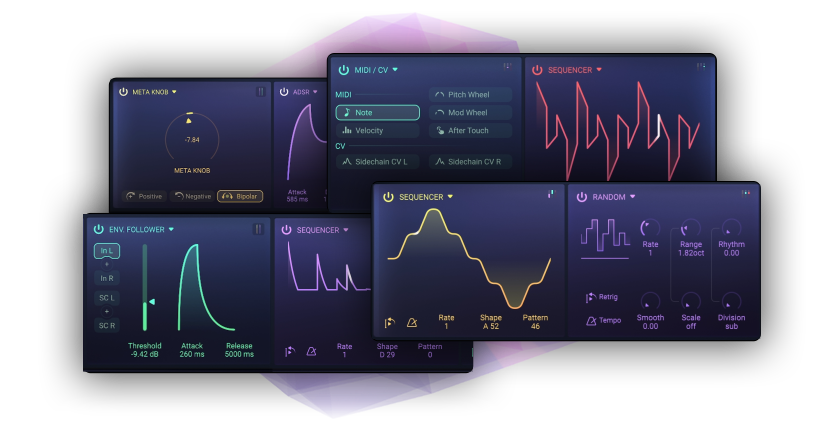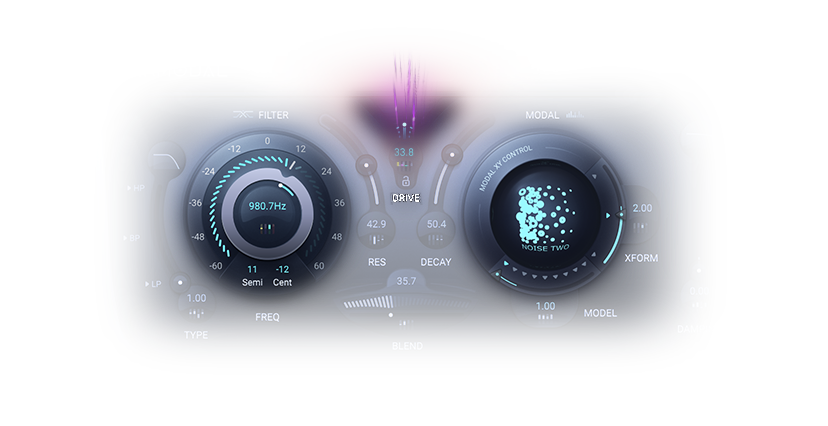 SVF FILTER

 

WITH

FAT NON LINEAR DRIVE
Supermodal's classic State-Variable filter smoothly blends between high-pass, band-pass and low-pass while working in parallel with the Modal filter.  The SVF filter uses a 24dB per-octave slope that is familiar to many classic analog synthesizers, with the ability to boost its resonance to self-resonate.  It can be further driven with the Drive feature to add warmth and thicken the signal.  Crossfade between the state-variable and Modal filter with its Blend slider for seamless morphing.

SWITCHING PRESETS IN REALTIME
MAKING EPIC PADS WITH SUPERMODAL
"Dude!!! This so cool!!! This will find its way in my next tracks FOR SURE!!"
"This Plugin Is Pretty Sick"
"I can literally just throw it on a synth and surf some presets and it's like this instant "sound cooler" button."
"By using 27 models – ranging from physical bodies to maths formulae – Supermodal could well be the filter you didn't know you need"
"Supermodal is a superb sounding filter plugin. It is packaged wonderfully and that's what makes it such a joy to explore and use. You will get endless hours of fun using it. If you rationalise buying another compressor emulation, you MUST have this in your toolbox without fail as not many plugins that infuse this much creativity exist out there."
"This thing is absolutely insane! Polyverse have done it again. An utterly unique, brilliantly designed, unbelievable sounding, brain-meltingly performant fx plugin which i'm putting straight into my live rig as we speak!!"
"Supermodal is indeed one hell of an awesome filter! As with Comet and Gatekeeper, again Polyverse has totally reimagined a classic effect and surrounded it with an elegantly layered interface that holds super deep sound design possibilities. Simply calling this "a filter" is terrible understatement!"
"This is great! Really inspiring sound shaping."
"I love Supermodal already. The possibilites of sound manipulation seem endless with this. You guys have a hit with this one. I will just think of this as my new lovely effect. Thanks again."
"Polyverse Supermodal is a filter plugin on steroids. It is capable of going way beyond the remit of a traditional filter, and allows you to achieve creative effects and extraordinary sound design. It really is a case of playing a couple of notes or beats through this beast, and creating entire tracks from them"
"Do you really need another filter plug‑in? We didn't think so either — until we tried this one!"
"Supermodal is more of a synthesizing engine for existing audio or MIDI notes than what we imagine a filter to be. The plug-in allows for an almost infinite number of creative variations that are useful for soundscaping, soundtracks, video games, and music."
"Polyverse Music's new plugin Supermodal seems simple, but it's not. It's an insane world of warping, modelling, filtering, and sound sculptoring — and after reviewing this — I'm also calling it a sound inverter!"
"Polyverse Supermodal delivers vivid Resonate sounds that sound "funky-fresh" and in a positive sense have not confirmed my old prejudices. The modulation options are easy to trade and playfully usable. The package of chic plugins and great sound possibilities is harmonious. You should grab it!"