SAMPLE-ACCURATE VOLUME MODULATION TOOL
Polyverse Gatekeeper is the cutting edge of volume modulation. Capable of sample-fast transitions and equipped with a unique variable smoothing algorithm, Gatekeeper plug-in allows for drastic, punchy gating and sequencing while keeping the output smooth. Breathe new life into your audio with the most basic, yet impactful way: silence.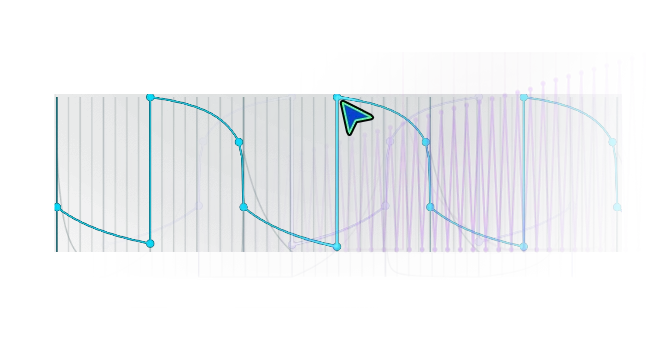 Gatekeeper plug-in can be used as a simple ADSR or a complex envelope. It can also act as an LFO, a gate, a step sequencer, a sample-accurate volume automator, CV modulator and more.
With 8 MIDI programmable envelopes, hundreds of presets, and even CV/MIDI output for external hardware, Gatekeeper is a multitool of creative expression. Whether in production, mixing, or sound design, Gatekeeper's powerful versatility will benefit every workflow.
PRECISE,
EXPRESSIVE DESIGNING TOOLS
Never again be frustrated by clunky editing interfaces! Curve brushes and an elaborate shortcut system makes drawing automation fun and easy, while 31 kinds of envelope brushes and 4 copy slots allow for exceedingly intricate designs. Need long drawn out patterns? With up to 1024 nodes, Gatekeeper can create a sequence up to a whopping 20 hours long.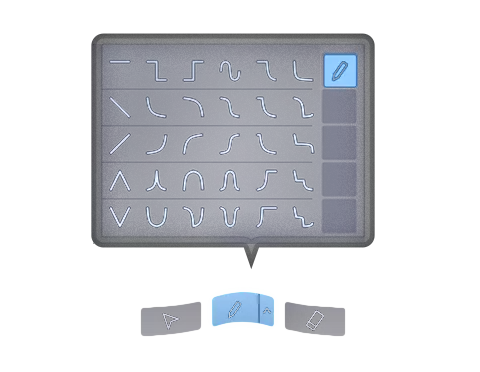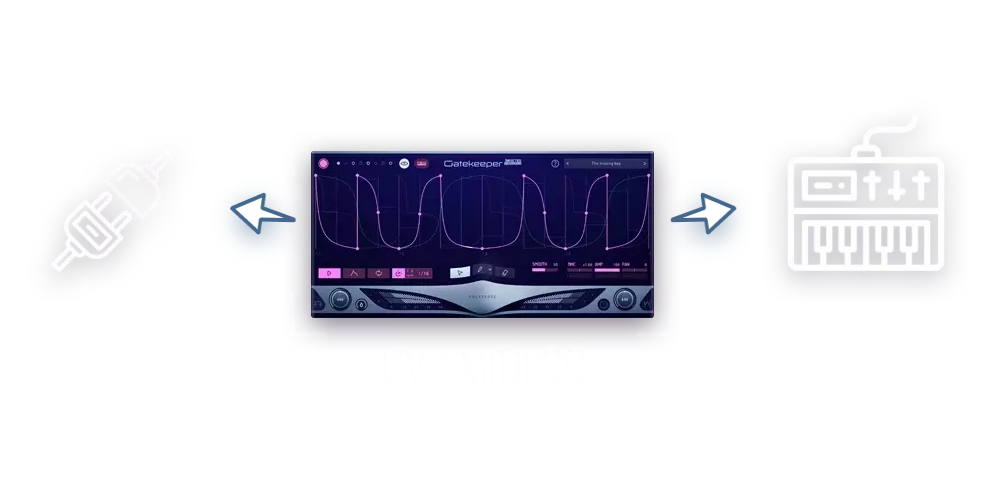 CONTROL OTHER PLUG-INS

AND EVEN YOUR EURORACK
Gatekeeper not only controls volume but can also control other devices. It can send MIDI CC to control plug-ins and digital hardware, and it can send CV to control analog and modular synthesizers.
THE NEXT KEY TO
INFECTED MUSHROOM'S ARSENAL
Developed in collaboration with legendary electronic music duo Infected Mushroom, Gatekeeper contains all of the secret techniques Infected has been using for many years and continues to use today. Through Polyverse Music's unique "Artistic Feedback" process, infected assisted in naturally evolving Gatekeeper into its best form: the fastest, most accurate, and most flexible volume modulator in the world.

GATEKEEPER CAPABILITIES WITH INFECTED MUSHROOM
USING NOISE TO MAKE AMAZING RHYTHMS
29 WAYS TO SPICE UP TRACKS WITH GATEKEEPER
CV Output to External Synths
"Gatekeeper is an excellent tool for adding rhythm and animation to sustained sounds. I love using it on pads and even loops to just add a bit more groove, while opening up the mix"
"It's great because it's good for not only basic stuff like a quick sidechain but you can also get some really crazy textural stuff by just slapping it on any number of channels. One of my favorite things to do is just throw it on a pad with a long release and it instantly adds a unique sense of movement to the audio."
"I find myself loading Gatekeeper with every track I make. I usually use it with a very subtle mix, on sustain elements like pads and reverb, to give them a subtle movement. LOVE this device."
"Gatekeeper is an awesome plugin and does volume automation the best out of all of my other plugins of the same sort, it is really easy to work with and can definitely add some spice to whatever signal you apply to it."
"There is no question that Gatekeeper is, hands down, the most bone-shatteringly awesome volume modulator in the scope of existence."
"Creatively using silence can be an incredibly effective production technique. It allows space for different elements of your track to shine through and, when used correctly, can breathe new life into your music. Gatekeeper by Polyverse is built for exactly that, using creative gating and sequencing in your productions in a unique, imaginative way."
"The latest Polyverse Music plugin, Gatekeeper, offers truly amazing control over previously time-consuming stutter and gate effects."
"If you are looking for a volume automation tool, Gatekeeper should be at the top of your list. I find myself using this plug for inspiration over and over again. With the flexibility of the 8 envelopes and over 100 presets there is no end in sight for new, creative and interesting ideas."
"GateKeeper keeps in line with its volume automation, the primary ability of GateKeeper. The effect can be used for simple (but super precise) sidechaining or the effect can be used more creatively to instill complex rhythms into drum beats, bass lines, melodies, anything really!"
"Gatekeeper stands out from other standard gate designs with an interesting feature that includes eight envelopes, independent of each other. This essentially makes Gatekeeper, one of the best noise gate plugins for rhythmic gating purposes."
"Gatekeeper by Polyverse is a flexible, and cutting edge volume modulation, it is capable of producing sequenced volume patterns, MIDI gates, stutter effects, pseudo-sidechain (ducking) effects, planned dynamics, creative gain clipping, and much more."
"There are a lot of praises to be sung about the Gatekeeper plugin. Aside from the alluring interface with its signature purple pulse, it has one of the more extensive ranges of presets to offer users."
"Gate plugins are often not a very creative tool as that's not their main role. However, guys from Polyverse have found a way to improve it and make it more creative, so you can use Gatekeeper not just like a typical gate plugin, but also as an LFO or step sequencer. It may bring those pad layers back to life for any kind of electronic music."
"Gatekeeper is a solid Gate plugin that has everything one could ask for in terms of volume automation."
"Polyverse's Gatekeeper is more than just an ordinary gate, featuring precise, sample fast modulation, enevelope drawing tools, boost and clip features, a smoothing algorithm, CV output for modular synths and 100s of presets. Thanks to its versatile design, Gatekeeper can work as a step sequencer, LFO, envelope, and sample-accurate volume automation tool."
This video tutorial shows how the plug-in works, how to use it, and more!
UNLOCK YOUR CREATIVITY
AND BECOME A MASTER OF SILENCE

Save on Gatekeeper when you get the Infected Mushroom Bundle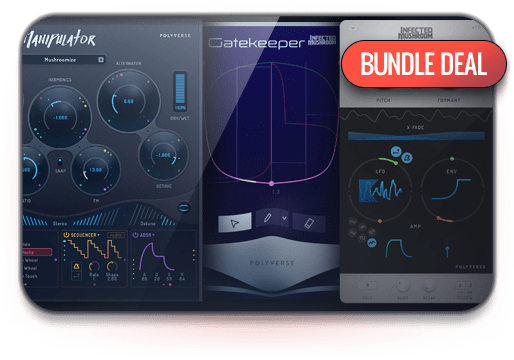 Manipulator + Gatekeeper + I Wish