STATE OF THE ART DIGITAL FILTER
Filtron is a 12dB state variable filter that can smoothly transition between lowpass, bandpass, and highpass. It is capable of self-oscillation with resonance levels that can reach up to 11! Filtron also features a fat sounding internal saturation algorithm and a sizzly post overdrive with two modes to choose from: cold and hot.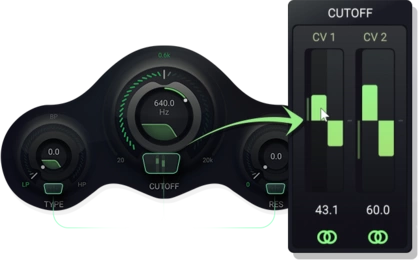 CONTROL VOLTAGE 
SIDECHAIN MOD
Filtron's parameters can be modulated via sidechain by CV generators such as Gatekeeper. Each channel in a stereo pair is treated as a separate modulation source and can be split to stereo. Filtron is also optimized for audio rate modulation.
DUAL MODE

NON LINEAR DRIVE
Filtron's internal saturator has a warm soft sounding curve. The filter sounds different depending on the input level.

It also has a powerful overdrive on it's output, with two modes: cold – a screaming overdrive for those TB-303 riffs
hot – a warm and fuzzy overdrive for the rest 😉
Experiment with Filtron in your effects chain today!
SEAMLESSLY CONNECT

GATEKEEPER

TO

FILTRON

Filtron's parameters can be modulated by the side chain signal. This allows for Control Voltage or "CV" type signals such as LFOs and Envelopes, to control the parameters of the plug-in.
It is possible to generate CV signals with modular synthesizers (there are some great free ones), or specialized CV generators such as Gatekeeper.
Filtron was in fact designed to be the perfect companion for Gatekeeper.
Filtron on Synth Bassline
"Ok the combo of audio rate and stereo modulation sold me, don't see that too often! "
"So, when a freeware filter like Polyverse Filtron shows up, you can bet that I'll stop whatever I'm doing and download the plugin instantly."
"With a resonant high pass set up with a little drive I was able to get a very meaty kick drum using Filtron, it's useful for more than just filter sweep effects, though it does those very well."
"Wider has become an essential tool in my mixing. Everybody talks about the loudness wars, but width is incredibly essential to creating an engaging mix that fills the headphones and captures a listener. Wider doesn't create the mono compatibility problems of tools like chorus and the Haas effect, meaning wider allows me to fill headphones without worrying that my mixes will fall apart on Bluetooth and AI home assistant devices which are often mono."
"It stretches out your instruments for you with a spectrum that you can pull and push the audio on for the perfect effect. Like detuning, this effect can also be easy to go too far with, so watch out."
"The interface is eye-catching but incredibly simple. There is just one control; for the stereo width of the signal. Full stereo is reached at 100%, but the plug-in can be pushed up to 200% for a `more exaggerated, larger-than-life sound."
Watch this video for a deep dive look at the great ways to use Filtron
HAVE SOME VOLTAGE CONTROLLED FUN NOW!