THE ORIGINAL PITCH FREEZER PLUG-IN
Polyverse I Wish is a unique "pitch freezer" plug-in that allows you to take any sound — a vocal recording, a drum beat or even noise — and instantly freeze it in time and pitch. Best for creating pitched stutter effects, robotic sounds, and amazing soundscapes, I Wish helps you achieve incredible effects never heard before. Is I Wish a synthesizer? Is it a granular effect? It's both!
SCULPT MIND BENDING SOUNDS AND MUSIC
When triggered by MIDI notes, I Wish instantly creates a tiny loop of audio that is set at the wavelength of the incoming notes.
I Wish is the only plug-in that allows pitch based micro-editing on the fly. Since the result is heavily dependent on the audio and MIDI you feed the plug-in, it will always be highly personalized and unique to you.
INFECTED MUSHROOM'S SECRET WEAPON
The concept for I Wish plug-in was inspired by the legendary electronic music duo Infected Mushroom. In their track also titled "I Wish,"  special audio effects were achieved by painstakingly chopping and editing various loops of audio at the wavelength level. This plugin creates the same effect, but it does so instantly and with additional customizability.
Polyverse Music originally created a prototype VST of I Wish plug-in for the group's personal use. After two years of using the plug-in, however, Infected Mushroom decided the plug-in was too good to keep just for themselves. And so now, their secret weapon is available for all to use!

REALTIME WAVETABLE SAMPLING
ADD UNIQUE TEXTURES TO AUDIO
Infected Mushroom - The Surgeon
"I Wish is a really cool plugin for sample manipulation. It's a fun and unique approach to sound design."
"Far more practical than a penny tossed into a fountain, I Wish will grant your desires, assuming these involve replicating some of the god-like production feats of bands such as Infected Mushroom and Shpongle."
"I'm a huge fan of I Wish and all the stuttery/glitchy fun you can have with it. I like to sneak it in whenever a project allows me to."
"I Wish is both robust and easy-to-use. The GUI was clearly designed for impressive ease-of-use and the presets sound AWESOME. I Wish can also be used as a polyphonic synthesizer, with wavetable oscillators. This allows you to make musical elements from any audio of your choice!"
"As a unique tool to instantly turn any sound into an unconventional synth, "I Wish" by Polyverse Music is very interesting and very useful."
"I Wish works wonderfully, and I guess it's worthy to have it in your plugin arsenal for those moments when you wanna experiment and try to create something new and unique!"
"Overall I would say that I Wish is quite unique and can generate some really great results from any audio source."
"I Wish is a granular note freezer. It creates tiny loops from any audio waveform. Those loops have discernable pitches and can be played like you'd play an instrument. We were intrigued..."
This video tutorial shows how the plug-in works, how to use it, and more!
MAKE I WISH YOUR SECRET WEAPON TODAY

Save on I Wish when you get the Infected Mushroom Bundle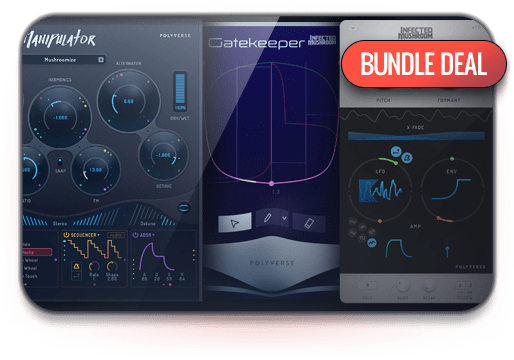 Manipulator + Gatekeeper + I Wish